Hi Everyone,
This is my first topic and project for Netduino platform. I still don't have mine yet,
UPS bastards missed-up the shipment
):
I thought I could start programming and I tried to make
EMF Detector
similar to the one for Arduino by: Aaron ALAI's
EMF detector project
.
I'm not sure if it's working correctly and I hope if anyone kindly could check it.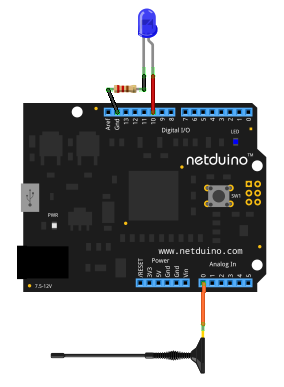 using System;
using System.Threading;
using Microsoft.SPOT;
using Microsoft.SPOT.Hardware;
using SecretLabs.NETMF.Hardware;
using SecretLabs.NETMF.Hardware.NetduinoPlus;

namespace NetduinoPlus_EMF_Detector
{
    /// <summary>Original Project: Aaron ALAI's EMF detector project for the Arduino.</summary>
    /// <remarks> http://www.aaronalai.com/emf-detector </remarks>
    public class Program
    {
        public static void Main()
        {
            const uint SAMPLES = 300; // No. of samples the device takes per reading.
            
            AnalogInput analogInput = new AnalogInput(Pins.GPIO_PIN_A0); // Assign analog PIN A0 as input port.
            PWM led = new PWM(Pins.GPIO_PIN_D10); // Assign GPIO PIN D10 as LED output port.

            uint dutyCycle = 0; // LED 8-bits output value: 0-255 (always off)-(always on). Default OFF.
            float avarage = 0.00f; // var holding the avarage of all samples.
            ulong sum = 0L; // var holding the sum of all samples.
            int[] readings = new int[SAMPLES]; // array holding actual samples.

            while (true) // loop infinitely
            {
                for (uint i = 0; i < SAMPLES; i++)
                {
                    readings[i] = analogInput.Read(); // read data from the antenna wire.
                    Thread.Sleep(10); // allow system to complete proccessing.
                    sum += (ulong)readings[i]; // calculate sum.
                }

                avarage = sum / SAMPLES; // calculate the avarage of all samples.

                dutyCycle = (uint)constrain((long)avarage, 0, 100); // constrains the avarage value to between two numbers 0 and 100
                dutyCycle = (uint)map((long)avarage, 0, 100, 0, 255); // maps out 0-100 to 0-255, 255 is the threshold of analog to digital conversion.
                
                led.SetDutyCycle(dutyCycle); // set the duty cycle value of LED.
                Thread.Sleep(10); // allow system to complete proccessing.

                // clean-up
                dutyCycle = 0;
                avarage = 0.00f;
                sum = 0L;
            }
        }

        /// <summary>
        /// Constrains a number to be within a range.
        /// </summary>
        /// <param name="value">the number to constrain, long data types.</param>
        /// <param name="low">the lower end of the range, long data types.</param>
        /// <param name="high">the upper end of the range, long data types.</param>
        /// <returns>
        /// <para>value: if value is between low and high.</para>
        /// <para>low:   if value is less than low.</para>
        /// <para>high:  if value is greater than high.</para>
        /// </returns>
        /// <example>
        /// <para>val = constrain(val, 0, 100);</para>
        /// <para>// limits range of val to between 0 and 100.</para>
        /// </example>
        /// <remarks>
        /// See: http://arduino.cc/en/Reference/Constrain
        /// </remarks>
        public static long constrain(long value, long low, long high)
        {
            return value >= high ? high : value <= low ? low : value;
        }

        /// <summary>
        /// Re-maps a number from one range to another.
        /// </summary>
        /// <param name="value">x: the number to map, long data types.</param>
        /// <param name="fromLow">the lower bound of the value's current range, long data types.</param>
        /// <param name="fromHigh">the upper bound of the value's current range, long data types.</param>
        /// <param name="toLow">the lower bound of the value's target range, long data types.</param>
        /// <param name="toHigh">the upper bound of the value's target range, long data types.</param>
        /// <returns>
        /// The mapped value.
        /// </returns>
        /// <remarks>
        /// See: http://arduino.cc/en/Reference/map
        /// </remarks>
        public static long map(long value, long fromLow, long fromHigh, long toLow, long toHigh)
        {
            try
            {
                return (value - fromLow) * (toHigh - toLow) / (fromHigh - fromLow) + toLow;
            }
            catch (Exception ex)
            {
                throw ex;
            }
        }
    }
}